Several of the larger ice moons of Jupiter and Saturn – most notably Europa, Ganymede and Enceladus – are believed to have liquid water oceans beneath their icy surfaces, kept liquid by tidal friction heating due to the moons' orbits around their mother planets. So my question is, what about Krysto, LEGO's own Ice Planet?
Using real-world astrophysics on the LEGO universe isn't always straightforward, given the elastic, not-always-serious, definitely-not-hard-science nature of LEGO Space's cosmology. However, even as a kid I liked a hard-science edge to my LEGO Space play, and got irritated when LEGO themselves did "stupid stuff" like showing minifigs in space without spacesuits, or creating ridiculous space helicopters (Yes, M-Tron Particle Ionizer, I do mean you). As an AFOL, my version of the Neoclassic Space universe tends to use as much real-world space science as I can muster within the LEGO Space aesthetic.
I really like the idea, so just like Europa or Enceladus, my version of Krysto has an interior ocean.
Since Krysto is described as a planet rather than a moon, its interior can't be kept liquid by the tidal heating of its own orbit around a mother planet, so presumably it has a large moon that achieves the same effect. This isn't contraindicated by anything I know about that LEGO has put out; as a toy company they weren't really into giving precise cosmological detail anyway.
Giving Krysto an inner subsurface ocean allows all sorts of development potentialities, not least of which is the possibility of Commander Bear and his crew exploring inward with mining equipment and submarines, as well as outward with rocketry and satellites.
In effect, what I'm looking at is a reworking of Seatron for the Ice Planeteers.
If you've never heard of Seatron, neither had I until I recently came across it in a YouTube video when I was following up a tangent in researching the first Space Police. And the reason we've never heard of it is because it was an unpublished theme, sadly aborted before reaching production.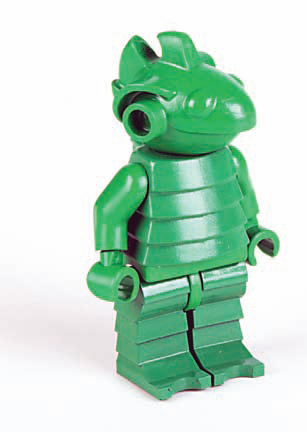 It seems it was intended as a direct successor to Futuron; a Space subtheme set on an ocean planet, blending LEGO's Space and Aquazone lines together in one awesome crossover theme. The few tantalising glimpses we're given show an underwater monorail, an awesome-looking oceanic base, and alien "Sea People" almost a decade before LEGO would finally give us nonhumans in the UFO theme. And substantially better aliens, too. UFO is my least-favourite Space line, with its messy colour scheme, ugly logo and could-have-been-better aliens, but those Sea People! Look at that thing! We're used to alien minifigs with a unique head mould, but about the only elements that has in common with a human minifigure are the arms and hands. Such lovely texturing on the torso and legs!
The reasons given for why Seatron never made it to the shelves seem as varied as those giving out the information, but they generally fall into three categories. Number one, the LEGO Corporation's powers-that-be decided that they (or we) weren't ready for LEGO aliens yet. Number two, it seems sales of the Futuron monorail weren't what they had hoped. And number three, apparently they had outsourced the monorail track elements to another company… which then proceeded to go belly-up before LEGO could acquire the rights for those pieces.
Who really knows? All I can say is that based on those few glimpses it would have been a seriously impressive theme, combining my favourite terrestrial theme with my perennial love of Space.
If I intend to adapt the Seatron concept to an Ice Planet setting, obviously I'm going to have to make some changes. I can't use the Seatron theme's above-the-waves palette of white and trans red; I'm going to have to keep the Ice Planet colours for that half of my builds. So whatever I choose for my alternate, below-the-ice palette has to look right next to all that.
I tried several things while searching for the right look. My initial thought was to maintain the blue and black of regular IP2002, but swap in yellow instead of white and trans red instead of trans neon orange, trying to keep in the same colour family for the transparent elements while using that "obviously subaquatic" LEGO yellow colour.
Alas, while it looks great on its own, and the blue elements and trans red make it clear that this ain't an Aquanauts MOC, I was really unsold on it in combination with the regular Ice Planet livery. It just looks too warm. So I tried some other stuff. Modified Atlantis palette, swapping the Ice Planet blue and trans neon orange for red and trans bright green? Nope; it looks too much like miscoloured Atlantis. A complete no-go.
A lot of the visual warmth is probably inevitable, since I want to stay with yellow for one of my primary colours, and I want to keep the trans red as well to make it distinct from Aquazone. I tried again with white instead of blue, and that seems to work.
Much of this "trying things out" phase was with small tablescrap builds that I didn't photograph (though the yellow/blue/black/trans red combination did result in a fairly nice modular submarine with a lot of the visual shape of the Blacktron Invader, but I broke it apart before taking pics), so you'll have to take my word for how bad some of the combinations looked. Having established the colour combination, I was ready to build something more serious.
I'd love to make a whole minifig-scale scene on a 32×32 baseplate, featuring a slice section through the ice and parts of both the surface and subsurface worlds. Alas, I don't begin to have enough white to generate a believable thickness of ice, and trying to support that sort of mass at height raises structural concerns. I could work something out, but at the moment the lack of white is crippling my ambitions.
Microscale, though, I can do.
For its scale and size, I'm pleased enough with this, but it's so small and limited compared to what I'd like to do that I'm ending up somewhat disappointed. I do like the use of those Season 5 Ninjago ectoplasmic blades as seaweed, though. And that's not a bad submarine for a 15-element nubbin the size of a fingernail.
I will be continuing with this adjunct-to-Ice-Planet subtheme. I do really like the idea of a Krystovian interior ocean.
So now I just need a name for it. Ice Planet: Beneath has a sort of possibility, but it's inelegant and doesn't abbreviate well. Aquatron doesn't preserve the link with Ice Planet, and Frozen Seas sounds too terrestrial, like a Viking-based computer game or something.
Seatron: Krysto could work, I suppose, or I did consider Ice Planet: Aquarius Project, as I thought Aquarius would make an apt name for their biggest or first main explorer submarine. But IP:AP is an even more terrible abbreviation than IP:B.
Hmmm.